Here EuroLics members may share news – for instance a new book or an upcoming workshops, doctoral academies or other activities organised by EuroLics members. Please send short information – including relevant links – to Birgitte Gregersen  (bg@business.aau.dk) if you have news and upcoming events that you would like posted on the EuroLics website.
---
March 12, 2020
Eurolics Workshop Postponed
The Eurolics workshop planned at Ege University in Izmir on 2-3 April has been postponed until further notice due to the outbreak of the coronavirus. 
A new date will be announced, conditions permitting, either later this year or early in 2021.
Eurolics Secretariat and Ege University Organizing Committee
---
December 10, 2019
EuroLics and the department of Economics, Ege University, invite paper submissions for the Eurolics symposium to be held on April 2-3, 2020 at Ege University, Izmir Turkey.
For more information, see Symposium homepage
---
July 19, 2019
In connection to the Globelics Academy 2019, a EuroLics workshop will be organized on 16-17 August 2019 at Tampere University.
The workshop will be divided into two half-day sessions, the Friday afternoon session devoted to Industry 4.0, and the Saturday morning session to Sustainability and Innovation Systems.
For programme and more information, see: Programme EuroLics workshop Tampere
Registration no later than August 12 at https://www.lyyti.fi/reg/eurolics2019
---
July 4, 2018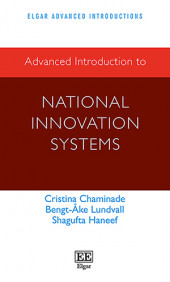 New book edited by Cristina Chaminade, Bengt-Åke Lundvall and Shagufta Haneef: Advanced Introduction to National Innovation Systems, EE Publishing. More info, see https://www.e-elgar.com/shop/advanced-introduction-to-national-innovation-systems